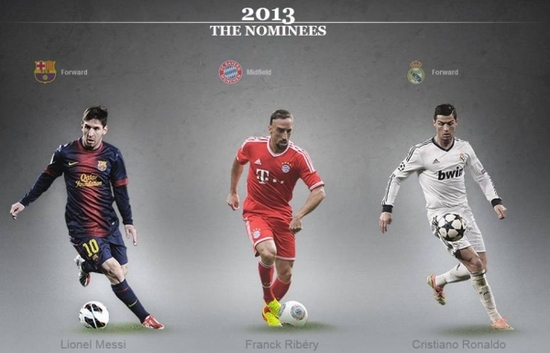 The polls have been counted, and the finalists are official: Cristiano Ronaldo, Lionel Messi and Franck Ribery have been announced as the three 2013 Ballon d'Or finalists, FIFA revealed.
Holder Messi has lifted the last four prizes but it is Ronaldo who is the bookies' odds-on favourite to triumph this time around,
particularly with a hat-trick for Portugal v Sweden to seal his country's World Cup spot.
VIDEO: Revealing the FIFA Ballon d'Or nominees below
Of all the three, Ribery won by the most silverware in 2013 and was the leading man in a brilliant Bayern Munich side that swept up all comers.
Big disappointment there is no Zlatan Ibrahimovic on this list…
Who do YOU think was the player of 2013?